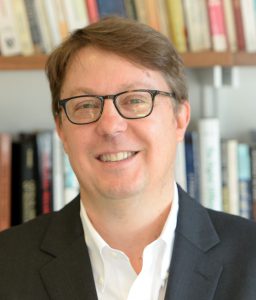 Rodney Benson
Rodney Benson is Professor of Media, Culture, and Communication and an affiliated faculty member in the Department of Sociology at New York University.
He is the author of Shaping Immigration News: A French-American Comparison (Cambridge, 2013), winner of the 2014 AEJMC Tankard Book Award and the 2015 International Journal of Press/Politics Best Book of the Decade Award.
Silvio Waisbord, editor of the Journal of Communication, has praised the book as "a sophisticated, elegant, and evidence-packed cross-national analysis that will be a go-to reference for comparative media research."
Benson is also editor (with Erik Neveu) of Bourdieu and the Journalistic Field (Polity 2005; Chinese translation, Zhejiang University Press 2017) and co-author (with Matthew Powers) of Public Media and Political Independence: Lessons for the Future of Journalism from Around the World (Free Press, 2011).
He is currently working on a new book, How Media Ownership Matters (Oxford, under contract), with Mattias Hesserus and Julie Sedel. Drawing on interviews and organizational data from Sweden, France, and the United States, the book goes beyond the standard media concentration debate to explore how different forms of media ownership (commercial, civil society, and public) facilitate different types of journalism.
Benson has been a visiting scholar or invited lecturer at universities in France (EHESS-Paris, IEP-Toulouse, IEP-Rennes, University of Montpellier), Germany (Universities of Bremen, Munich, Mannheim, Weimar), Switzerland (University of Zurich), Denmark (Copenhagen Business School, University of Copenhagen, Roskilde University, University of Southern Denmark), Norway (University of Oslo), and Finland (University of Helsinki).
Prior to joining the NYU faculty, Benson was assistant professor of international communications and sociology at The American University of Paris; prior to his academic career, he was chief speechwriter for U.S. Senator Tom Harkin.  He holds a PhD in sociology from the University of California-Berkeley.
Benson is a member of the editorial boards of Poetics, International Journal of Press/Politics, Communication and the Public, Journalism, and Politiques de Communication. His articles and essays have appeared in many publications, including the American Sociological Review, Journal of Communication, American Behavioral Scientist, Political Communication, Theory and Society, Poetics, International Journal of Press/Politics, Le Monde Diplomatique, the Christian Science Monitor, The Conversation, Al Jazeera.com, and the Miami Herald.