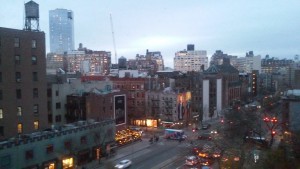 Currently, I am pursuing four specific lines of research: media ownership, public media policy, contemporary transformations of digital journalism, and production of culture.
Media Ownership
Working with co-authors Julie Sedel of the University of Strasbourg and Mattias Hesserus ofUppsala University, I am leading a three-country (Sweden, France, and the United States) comparative study of forms of media ownership. This project, initially funded by the Swedish Axel and Margaret Ax:son Johnson Foundation and currently supported by an NYU Challenge Fund Research Grant, draws on extensive primary (in-depth interviews of top news managers and editors, analysis of industry data, content analysis) and secondary research.
The project will culminate in the publication of the book, How Media Ownership Matters, under contract with Oxford University Press. The book first develops a typology of the ways in which owners/management teams exercise power over the newsroom and ultimately news content: business instrumentalism, political instrumentalism, audience adjustment, and public service orientation. The second stage links these "modes of ownership power" to variation at the levels of the national field of power, the specific organizational field with its own institutional logic, and the social location of the outlet's audience.
I have written a chapter, "Institutional Forms of Media Ownership and their Modes of Power," for the book, The Journalistic Institution Reexamined: Digital Challenges and Professional Reorientations (Intellect/University of Chicago, 2016), pp. 27-48, edited by Martin Eide, Leif Ove Larsen, and Helle Sjøvaag. This chapter lays out the conceptual framework for the media ownership book.
I am currently working with my co-authors on the final research, writing, and editing of the book. NYU PhD students Rodrigo Ferreira, Tim Wood, Tim Neff, and Laura Bullon have been providing research assistance for the book.
Public Media
My interest in public media was originally sparked by my French-American comparative research, which showed that publicly subsidized media in France tended to be more multiperspectival and critical than their American commercial counterparts. I extended this research as the lead author of a major 14-country comparative study of public media policies and funding sponsored by the media reform organization Free Press (Public Media and Political Independence, 2011). I am currently synthesizing and updating this report for an article co-authored with Matt Powers and Tim Neff, which presents a typology of the ways in which various democracies ensure the professional autonomy and public accountability of public media systems in the digital age. This article was just published in January 2017 as "Public Media Autonomy and Accountability: Best and Worst Policy Practices in 12 Leading Democracies," in the International Journal of Communication 11 (2017): 1-22.
Digital Media
As with much of my research, I have sought to bring an international comparative perspective to digital media studies. In recent articles published in the Journal of Communication (2012) and the International Journal of Press/Politics (2014), my co-authors and I compared online versus print newspapers in Denmark, France, and the United States in terms of differences in the prevalence of various journalistic genres, advertising, and degree of topical diversity.
I am also currently writing a chapter for Remaking Digital News (MIT Press), edited by Pablo Boczkowski and C.W. Anderson with the working title, "From Hetereogeneity to Differentiation: Searching for a Good Explanation in a New Descriptivist Era." This article calls for greater focus on normative signposting, systematic variation linked to generalizability, and rigorous explanatory analysis in digital news media research.
Production of Culture
I am expanding my interest beyond news to understand what makes for "quality" across a range of fields of cultural production: art, music, television entertainment, and film. I have a contract to write a book for Polity Press, entitled Cultural Excellence, scheduled for completion in 2017. The book will draw on original in-depth interviews with cultural producers as well as a constructively critical synthesis of previous academic research and professional insider accounts. I will put the focus on "what works" (according to a range of aesthetic and political criteria), what factors contribute to aesthetic and civic success, and what's at stake for society.